Some of the coolest people I've met-カッコいいヤツら
Some of the coolest people I've met,
No. 1: Dave.
English Version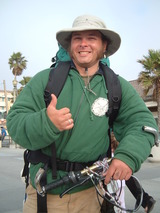 I met him at Huntington Beach pier on February 10, 2007, around 4pm.
I was drawing a picture of Goku from Dragon Ball Z at the pier, because I was selling some of the drawings and also I was body tattooing someone's name in Kanji.
When I was drawing the picture, he came up with other two guys and they said, "Right on! That's cool man! Is that Goku?"
I said yeah, and they asked me if I was doing just for fun or professionally.
He asked me if I can write "Damn-ass", so I wrote "超馬鹿"(means "super stupid"), ha-ha, he liked it.
I asked him if he's traveling, and he said he is traveling through the States by Bicycle. He said he had gone over the States 14 times already, wow!
He said he is in Huntington Beach for now, and I asked him where he is staying at. He said he has no place to stay, so he is sleeping inside the public bathroom which is set up at the beach. Wow!! I can't imagine myself doing that far.
I wanted to stay the place to sleep for him, but I don't have an enough place for three of them, so I couldn't. Well, next time.
He had a big smile on him when we were talking about the traveling. Because I like traveling too, we got along well soon.
People travels are nice. He is one of them of course.
2/10/07
*****
俺が会ったスゴイやつ、
No. 1, デイヴ。
日本語版
彼とは今日、ハンティントンビーチのピアで会った。
ドラゴンボールの絵とボディ・タトゥーを描いていたとき、彼らが寄ったのだ。
彼は他の二人と一緒だった。「それめちゃくちゃいいな!それ悟空か?」と言いながら、俺の絵を褒めてくれた。
デイヴが言う。「"アホヤロウ"と漢字で書いてくれ」と。
"超馬鹿"と書いた。ははは。彼は気に入ってたよ。
彼に聞いた。旅をしているのかと。
どうやら彼は、自転車でアメリカ中を周っているらしい。
もう14回も、アメリカ中を周ったって。すげえな!
今はハンティントンビーチにいるけど、次はサクラメントに多分行くという。
どうやって行くのか聞いたら、バスを使うって。
そうか、バスを使って移動して、自転車で地域を移動するんだな。
今はどこにステイしてるのか聞いたら、ビーチの横の公衆便所の中だという。
自転車を入れて、朝まで寝るらしい。すげえな。
俺はまだそこまでやってねえな・・・
今日泊まる場所を提供してやりたかったが、何せ家にはスペースがないもんでね。俺はクローゼットに住んでるし・・・ 次の機会やな。
お互い旅している同士、話がよく合ったよ。
やっぱり旅好きなやつは、良いやつが多いな。
笑顔が印象的なやつだった。
2・10・07